KEAP Creative - Pamela Shears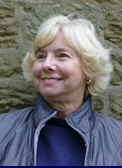 Pam was born in Ilford, Essex but has lived in Northumberland since the age of three. She studied at the College of Art and Industrial Design, Newcastle-upon-Tyne and has done various types of freelance work including wallcovering design and artists' impressions.
Pam works mainly in watercolours and has become well known for her beautiful floral studies. She achieves a soft touchable quality to the petals which appear almost translucent and her subjects range from the palest pink roses through to the deep velvety purples of violets and pansies. On several occasions she has been commissioned to do floral works of specific flowers or to compliment colour schemes. Her watercolours of local scenes are also much sought after and these show competence and skill both in portraying natural colour and light and in achieving pleasing compositions.